Stretching from the Capitol to the Lincoln Memorial, the National Mall is a wide, tree-lined expanse of open space between the Constitution and Independence avenues. The Mall is the center of D.C. tourist attractions, fringed by the Smithsonian museums and dotted with monuments.
For here is the iconic Lincoln Memorial, fronted by its long Reflecting Pool; nearby is the Washington Monument, the top of which offers some of best panoramic views of the city. Pause to reflect on the fallen soldiers at the Vietnam Veteran's Memorial, or marvel at the 56 granite pillars at the National WWII Memorial. If you come in late March or early April, the cherry trees at the Thomas Jefferson Memorial will be blazing pink.
You could spend days and days studying the treasures at the Smithsonian museums on the Mall. From the massive collections in the National Gallery of Art and the National Museum of Natural History.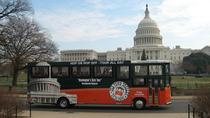 Oplev Washington DC i dit eget tempo med en endagsbillet til denne spring af/spring på-sporvognstur. På den måde kan du selv planlægge, ... Mere info
Stedangivelse: Washington D.C., District of Columbia
Varighed: 2 til 16 timer
Sprog:

Engelsk