Homosassa Springs Wildlife State Park
Get up close and learn about Florida's wildlife at Homosassa Springs Wildlife State Park. Visitors flock here in droves to see manatees, in particular, that can be seen twisting, turning, diving and playing from the park's underwater observatory. The park provides a safe habitat for black bears, bobcats, alligators, crocodiles and river otters, among other animals, and works to educate the public about Florida's wildlife. There is a children's education center on the premises to further this goal, while a specific educational program about manatees is offered three times every day.
In addition to education, Homosassa is a great place for outdoor recreational activities. Bird watching is the most popular activity here, and bird walks are offered, during which guides will point out various species. Families also enjoy picnicking and taking nature walks, and if you don't bring your lunch, that's okay—the park has a café and concessions stand on the premises.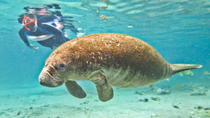 På denne tur fra Orlando kan du tage med på en guidet sejltur på Crystal-floden for at snorkle og svømme med søkøer. Derefter, ... Mere info
Stedangivelse: Orlando, Florida
Varighed: 12 timer
Sprog:

Engelsk
Se alle Homosassa Springs Wildlife State Park ture og billetter