Patricia and Phillip Frost Museum of Science
The Patricia and Phillip Frost Museum of Science, formerly known as the Miami Science Museum, is located in Miami, Florida. Their aim is to inspire people to enjoy science and technology in order to better understand themselves and the universe around them. The museum has expanded several times since its inception and currently receives over 250,000 annual visitors of all ages.
Exhibits include a sea lab where visitors can learn about coral reefs and the sea creatures that live in the reefs. You can even touch a sea horse or sea urchin. There are also exhibits about hurricanes and other aspects of weather. These exhibits show you how hurricanes work, how climates are changing, and how humans are affecting those changes. The museum also has exhibits that teach visitors about nano science, energy, movement, health, nature, wildlife, and much more. The planetarium has a 65-foot diameter domed projection screen with 231 seats. Check ahead for show schedules.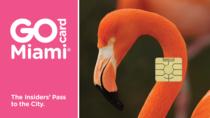 Udforsk Miami på egen hånd med det fleksible Go Miami-kort. Du kan tage på så meget eller så lidt sightseeing, som du har lyst til, i ... Mere info
Stedangivelse: Miami, Florida
Varighed: Varierer
Sprog:

Engelsk
Se alle Patricia and Phillip Frost Museum of Science ture og billetter