One of LA's most distinguishing icons, the famous HOLLYWOOD sign proudly stands on the hillside of the Hollywood Hills, overlooking its namesake city and the movie industry it has come to symbolize.
LA's most famous landmark first appeared on its hillside perch in 1923, as a advertising gimmick for a real-estate development called Hollywoodland. Each letter stands 50 feet (15 m) tall and is made of sheet metal painted white.
Once aglow with 4,000 light bulbs, the sign even had its own caretaker, who lived behind the letter L until 1939. The last four letters were lopped off in the 1940s as the sign started to crumble along with the rest of Hollywood. In the late 1970s, Alice Cooper and Hugh Hefner joined forces with fans and other celebrities to save the famous symbol.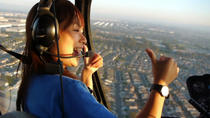 Tag på den længste helikoptertur i Los Angeles, og få VIP-behandling med hoteltransport i mini-limousine! Du kommer til at se alle ... Mere info
Stedangivelse: Los Angeles, Californien
Varighed: 60 minutter
Sprog:

Engelsk