In its billion-dollar in-the-clouds perch high above the city, the Getty Center presents triple delights: a stellar art collection (Renaissance to David Hockney); Richard Meier's cutting-edge architecture; and the visual splendor of seasonally changing gardens. On clear days, you can add breathtaking views of the city and ocean to the list.
Even getting up to the museum aboard the computer-operated tram is fun. From the sprawling arrival plaza, a natural flow of walkways, stairs, fountains, and courtyards encourages a leisurely wander between galleries, gardens, and outdoor cafes. Must-sees include Van Gogh's Irises, Monet's Wheatstacks, and Rembrandt's The Abduction of Europa.
When not wandering the galleries, take time to visit the lovely Cactus Garden for those amazing Los Angeles city views. Sunsets create a remarkable alchemy of light and shadow and are especially magical in winter, when the orange orb drops straight into the Pacific.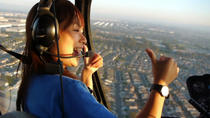 Tag på den længste helikoptertur i Los Angeles, og få VIP-behandling med hoteltransport i mini-limousine! Du kommer til at se alle ... Mere info
Stedangivelse: Los Angeles, Californien
Varighed: 60 minutter
Sprog:

Engelsk