Red Rock Canyon is a network of impressive canyons and surreal rock formations inside the Red Rock National Conservation Area. If you're looking for opportunities to hike, bike or rock climb within easy striking distance of Las Vegas, Red Rock Canyon is just what you're looking for.
One of the more popular destinations for climbers here is Keystone Thrust, made up of towering red sandstone peaks and walls that reach as high as 3,000 ft (910 meters). Then there's La Madre Mountain (8,154 ft / 2,485 m), a moderate climb and an optimal spot for mountain biking.
Other highlights include Icebox Canyon (to get here, you start hiking an easy trail through the canyon and then boulder-hop and climb to reach the top) and the Pine Creek Canyon oasis (a running creek surrounded by pine trees).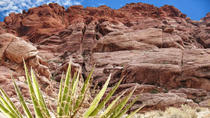 Under dit besøg i Las Vegas kan du besøge Red Rock Canyon, en af Mojave-ørkenens smukkeste attraktioner. Vælg en afslappet tur på ... Mere info
Stedangivelse: Las Vegas, Nevada
Varighed: 4-6 timer
Sprog:

Engelsk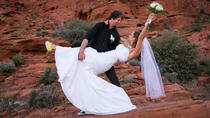 Nyd en dejlig dag omgivet af det mystiske landskab ved Red Rock Canyon. Red Rock er det perfekte sted at fejre jeres store dag. Flere og flere mennesker har ... Mere info
Stedangivelse: Las Vegas, Nevada
Varighed: 4 timer
Sprog:

Dansk

Engelsk