Na Pali Coast
Kauai's Na Pali Coast is famous for its seaside beauty, marine life and water sports.
The 15-mile (24 km) length of coast is lined by cliffs, white-sand beaches and turquoise sea.
Come here to whale watch or spot dolphins and monk seals on an eco-cruise or sailing adventure. Follow the Kalalau Trail to go hiking across the cliff tops to Hanakapiai beach and waterfalls.
Say hello to the local marine life on a snorkeling excursion, with the opportunity to see tropical fish and green sea turtles.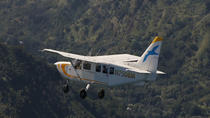 Vælg 1 passager, når du foretager din reservation, for at se dine aktuelle prismuligheder, og oplev Kauai på et sightseeingfly i fuld luksus! ... Mere info
Stedangivelse: Lihue, Kauai
Varighed: 65 minutter
Sprog:

Engelsk