Modern trains may have lost some of their luster, but the great American dream lives on in the Grand Canyon Railway. Combining the mystique of the Wild West with the grandeur of the Grand Canyon, the Grand Canyon Railway gives visitors a chance to live part of the great American dream – travel across the great stretch of North America by rail.
Your legendary journey begins with the history of the Railway itself. Since 1901 the Grand Canyon Railway has been touring the hallowed grounds of the Grand Canyon and familiarizing its guests with the ways of the Wild West - a tradition it carries on today. Be entertained by authentic characters and musicians who bring the Old West to life, and lose yourself in the passing scenery that is the Grand Canyon National Park.
Observe wildlife from the observation deck, or enjoy lunch while characters right out of the old west sing songs and regale you with stories of their times.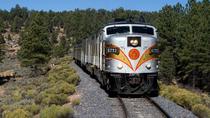 Stig om borg i Grand Canyon Railway på en tur til den majestætiske Grand Canyon, som du aldrig vil glemme. Mærk det gamle tog bumle af sted, ... Mere info
Stedangivelse: Williams, Arizona
Varighed: 8 timer
Sprog:

Engelsk