Captain Cook Monument
British explorer Captain James Cook met his death at Kealakekua Bay on February 14, 1779 perhaps due to a misunderstanding over the use of a boat.
Today, a white obelisk marks the spot where he died, standing sentinel over the lush coast and its crystal-clear water. There's great snorkeling from the coast's black rock beaches, along with diving and kayaking.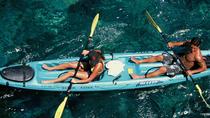 Omgiv dig med den smukke natur, delfiner og lejlighedsvise pukkelhvaler, mens du padler i kajak i den billedskønne Kealakekua Bay. Denne Big Island-tur ... Mere info
Stedangivelse: Honalo, Hawaii
Varighed: Varierer
Sprog:

Engelsk