World of Coca-Cola
Celebrating the world's most popular soft drink, the World of Coca-Cola showcases all things Coke. The museum is an absolute must-see for every visitor to Atlanta. The highlight of the visit is sampling Coke products from around the world. But there are also Andy Warhol pieces to view, a 4-D film to catch, company history to learn, and what seems like 20 billion promotional materials to behold.
The World of Coca-Cola is divided up into two levels, called "The Hub." On the lower level, a short film introduces visitors to the magic behind a bottle of Coke. After watching the film, visitors can browse a number of attractions, including the Milestones of Refreshment exhibit, which traces the history of Coke.
The second level is where visitors will be completely immersed in the world of Coca-Cola. At the Secret Formula 4-D Theater, you can watch a film about an eccentric scientist on a quest to uncover the mysterious secret formula for Coke.
Ture og billetter
Se alle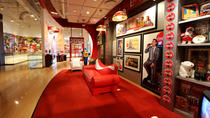 Besøg Home of Happiness i Atlanta! Med adgang til Coca-Cola World kan du udforske historien, memorabilia og reklamer bag verdens mest berømte ... Mere info
Stedangivelse: Atlanta, Georgia
Varighed: Fleksibel